At Lakestyle we often get asked what type of materials are best to use for building a dock. With a number of options available, we would like to explain the qualities of each option available, to help you make an informed decision on what is best for your shoreline and use.
Lakestyle sells 3 main types of dock surfaces, which we believe are the solution for the majority of lake shoreline installations:
Wood

Docks – build your own or use some of our

pre-built

cedar docks

or

ready to assemble

cedar

dock kits

Aluminum

Docks – sprayed with a polyester Teflon powder coated finish, this is a classic, clean, and modern look

PVC

Docks – a strong, long lasting alternative that comes with or without drop in panels that clip in to make assembly a breeze
Building a Dock
As for framing, the vast majority of the dock frames we sell are aluminum dock frames. They look awesome and stand up great in the elements, come pre-drilled for our patented dock bracket system and can easily accommodate many different dock configurations.  What's great about these aluminum dock frames is that you can use them to build a dock section with whatever decking material you want, so that you can match your sundeck or existing landscaping materials.
Factors to Consider when Designing a Dock
There are numerous factors to consider when designing a dock.  Factors such as weight, durability, cost, aesthetics, environmental conditions and design function and possible community bylaws.  These factors all play a part in improving your current dock system or planning for your future dock system.
Sun Exposure
Will your dock be consistently in the sun? If so, heat resistance may be something to consider. What kind of material is your dock made out of? Some metals, such as aluminum remain relatively cool to the touch, when treated with a surface finish. Some materials that are subject to consistent heat, tend to warp and wear more quickly. Be sure to find a material that can withstand the heat subjected to it.  All of Lakestyle's aluminum dock sections are designed, built and treated to resist the sun's damaging rays!
Esthetics: Style & Look of Your Dock
How your dock looks is important. You may want it to stand out or blend in depending on the environment you are in (treed, open body of water, small cove) and sometimes the style of dock is subject to community bylaws.  At Lakestyle, dock products are offered in a variety of colours to suit everyone's preferences and needs.  Whether you're after a dock that's dark brown, light brown, grey, or even a natural cedar look, there are many decking surfaces to choose from to fit the look you're dreaming of.
Dock Materials: Finish & Comfort
Similar to colour, there are a wide variety of options available. Will your dock be constantly wet? Will there be high volumes of people using the dock? If you've answered yes, a non-slip surface would definitely be needed as well as a material that wears more slowly.  Our engineered PVC decking options are built with structural deck boards that do not contain any foam or wood fillers and will not absorb moisture.  At Lakestyle, safety is important, so our comfortable slip-resistant dock sections stay cool to the touch and have no exposed fasteners.
Do you want more of a cushion feel under your feet? Will you be laying on the dock to soak up some sun? If so you may not want a dock surface with gaps between the boards. How your dock looks is one of the easiest factors to manage, Lakestyle offers a lot of customizable dock options that are easily configured and reconfigured to suit your style.  Lakestyle has a solution for any aesthetic or comfort request.
Weight of Dock
Weight is a common concern amongst purchasers. How many stories have you heard about a neighbour struggling with a dock that is too big, too heavy or too awkward to move? Think about when you will be putting your dock into and pulling it out of the water.  If you are like most dock owners, it will be the first day the ice is gone and the last day before it forms! Weight will matter because the less time spent working means more time for having fun! Lakestyle has many lightweight options, including dock sections with removable panels, for fast and easy installation and dock removal processes.
Dock Storage
For those that are able to leave their docks in year round, we envy you. For those of us that must take our dock in and out each season, think about where you will be storing the dock. Will it be stored outside? Covered? Having to disassemble and reassemble your dock each year can cause increased wear on the joints, dock brackets and other components that hold it all together.  At Lakestyle, our dock hardware is heavy duty and easily withstands the temperature extremes that we experience in our Canadian climate.  All of our dock brackets are extremely durable, rugged and will last season upon season.
Dock Maintenance
How willing are you to put in some elbow grease? Regardless of materials used, there is bound to be some dock maintenance required. Wood docks and cedar docks will likely require the most maintenance, while others materials, such PVC  docks are more plug and play. Lakestyle's aluminum dock frames come pre-drilled, making our dock brackets easy to install and low maintenance.
Time in Use
How much you use your dock will obviously play a big factor in your planning and dock design process.  Think about the dock application and whether it will be susceptible to strong storms or placed in a protected cove. If you leave the dock in the water over the winter that will also play a factor during the freeze / thaw cycles and in Alberta, this can happen many times!
Dock Function
Is the intent for the dock to be used in a public setting? Will others be tying their boats up to it? What is the likelihood that damage will occur from neighbours and others not normally accustomed to its safe handling (think dragging materials across or dropping materials on, etc.)?  
Dock Accessories
What about dock accessories?  Do you need bumpers, benches, solar dock lights, ladders, or canoe/kayak/paddleboard racks?  Lakestyle can help make your dock more functional and fun for all your lake activities and entertaining needs.
Please visit our website lakestyle.ca to learn more or better yet, give us a call toll free 1-855-525-7895 and let us help create the dock that works best for you!
Tommy Docks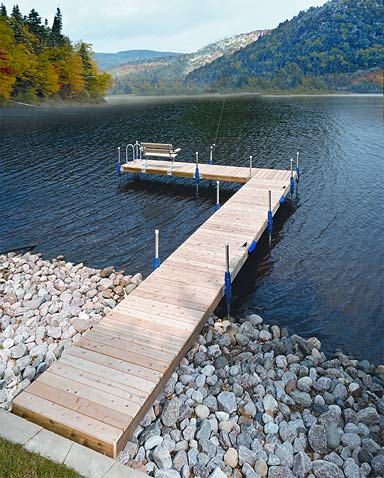 Lakestyle is a company founded on a desire to help people fulfill their lake life dreams. By utilizing easy to maintain dock systems and accessories, people are able to spend less time working and more time having fun!  Lakestyle is the exclusive Canadian retailer of Tommy Docks, beautiful and easy to install, quality docking system. Check us out at www.lakestyle.ca, follow us on Facebook, Instagram and Twitter @LakestyleCA!