DOCK HOW-TO GUIDES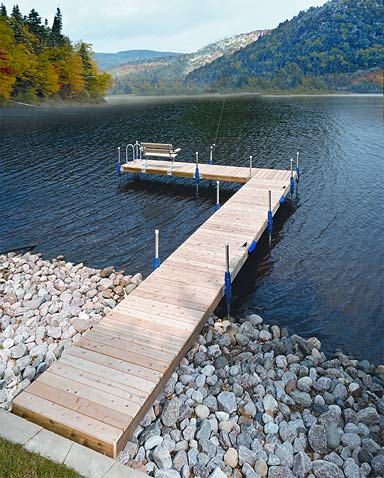 Here at Lakestyle, we want to make your lake life less work and more fun! Here are some helpful how-to guides to help you install your new dock system, take-down your dock at the end of the season, or how to assemble our popular DIY cedar or aluminum dock kits.
Wondering how to attach the dock brackets or adjust the dock posts? Contact us and we'll do what we can to help out.
Check back here as we add new how-to instructions.
DOCK INSTALLATION (1ST YEAR ONLY)
While on shore, install brackets, posts, and foot pads.
Walk out to bracket locations & loosen bracket adjusting bolt. Let pipe slide down to lake bottom, then tighten bracket adjusting bolt.
Level dock starting from shore, then drill holes and install all locking L pins. Install optional accessories and safety caps.
DOCK TAKE-DOWN
Remove all assembly pins and pipe bumpers from brackets.
Loosen dock bracket adjusting bolt. When leg is completely up, tighten bracket adjusting bolt.
Note: if augers are being used, unscrew from lake bottom with pipe wrench turning counterclockwise.
Lift dock section out of adjoining bracket and float to shore.
Mark each section for easy installation next spring. There is no need to remove any hardware. Stack sections in a flat crisscross configuration for winter storage.
CEDAR + ALUMINUM DOCK KIT