Happy Canada Day to our Lakestyle Family!  For many lake folks, celebrating Canada Day marks the official kick-off to summer. On July 1st, Canadians all across the country and around the world are showing pride in our history, culture and achievements and we've put together a list of our 12 favourite ways you can celebrate Canada Day at the Lake.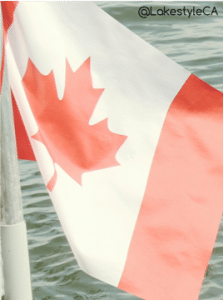 History of Canada Day
Here's a quick history lesson about the start of Canada Day celebrations.  On July 1, 1867, Canada became a self-governing dominion of Great Britain and a federation of four provinces: Nova Scotia, New Brunswick, Ontario and Quebec. The anniversary of this date was called Dominion Day until 1982. Since 1983, July 1 has been officially known and celebrated as Canada Day.
Celebrating Canada Day at the Lake
What's a patriotic celebration without a parade? Many little sleepy lake communities come alive on Canada Day, with homegrown parades, pancake breakfasts, concerts, carnivals, festivals, and firework displays. Visit your local municipality's website or call your local government office and they are sure to have info about all the fun Canada Day activities in your area. As well, check out these 12 ways you can celebrate Canada Day at the lake.
Happy Canada Day from Lakestyle!
Lakestyle is a company founded on a desire to help people fulfill their lake lifestyle dreams. By utilizing easy to maintain dock systems and accessories, people are able to spend less time working and more time having fun!  Check us out at www.lakestyle.ca, follow us on Facebook, Instagram and Twitter @LakestyleCA!