We love cosy weekend escapes to the cabin during the winter months. Spending those dark, cold days snuggled up in a winter wonderland is exactly what city slickers/cabin folk need to rejuvenate during the winter months.
Typically, we do less entertaining at the cabin during wintertime, so our winter meals at the cabin tend to be more casual and family-style, that warm the belly after snowshoeing, cross country skiing, ice fishing or skating on the lake, compared to our favourite fresh summer recipes.
Here are a few of Lakestyle's Winter Recipe Meal favourites, something great for lunch, dinner and even a little low maintenance dessert.
Creamy Tomato Soup Recipe
Once you make this tomato soup, you'll never reach for the canned stuff again!  We don't bother peeling the tomatoes as we like the extra texture it provides to the soup. The soup may be a little thicker, so you may want to add a little extra water or vegetable stock.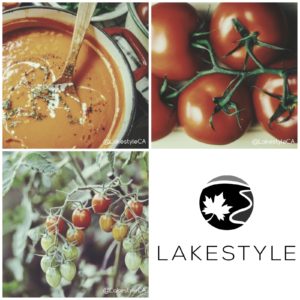 Ingredients
8 medium tomatoes
2 Tbsp extra virgin olive oil
Salt + Pepper
1 Tbsp butter
1 onion, chopped
3 garlic cloves
1 medium carrot, diced
1/8 tsp red pepper flakes
1/3 cup heavy cream
1 Tbsp chopped fresh basil or parsley
Preheat the oven broiler.

Cut the tomatoes in half and squeeze juice out of tomatoes, reserve juice.  Spread tomatoes over a small rimmed baking sheet. Drizzle with 1 Tbsp of oil and season with salt and pepper.  Broil until the tomatoes begin to caramelize, about 10 minutes.

In a large pot, heat the remaining 1 Tbsp oil and the butter over medium heat.  Add the onion, garlic, and carrot and cook until softened, about 10 minutes. Add the roasted tomatoes, reserved juices, and red pepper flakes and simmer for 15 minutes.

Stir in cream and remove from the heat.  Puree soup until smooth.

Garnish with basil or parsley and serve immediately.  Cooled soup can be stored in the fridge for up to 3 days, or soup can be frozen for up to 1 month.

Short Rib Bourguignon Recipe
This is a lovely winter recipe to have simmering in the oven, while you enjoy your outdoor winter activities or are curled up with a good book by the fire.  Serve it with mashed potatoes or rice for dinner.
Ingredients
2 cups all-purpose flour
1 tbsp. paprika
1 tsp. cayenne pepper
1 tsp. salt
1 tsp. black pepper
3 to 4 pounds beef short ribs, cut into thirds
3 to 4 tablespoons unsalted butter
1/2 cup bacon, diced
2 large white onions, sliced
4 shallots, quartered
1 pound mushrooms
1 cup celery, diced
1/2 cup carrots, diced
2 cups red wine
4 cups beef stock or to cover

Preheat oven to 350 degrees F.

Combine flour, paprika, cayenne pepper and black pepper.  Add the short ribs, coating them lightly in the flour mixture.  In a large Dutch oven or deep oven-proof pot melt butter over medium heat until golden.  Add the ribs, shaking off any excess flour. Sear the meat until brown, moving the ribs around covering them with the butter.
In the same pot, sauté the bacon for 2 to 3 minutes, then add the onions, shallots, mushrooms, celery and carrots and sauté until golden.  Deglaze the pan with the red wine, adding a little at a time. Let reduce over high heat for 1 minute. Add the rest of the wine and beef stock, and bring to a simmer.  Once the liquid has come to a simmer, cover and cook in the oven for 2 to 3 hours. Season to taste.
Slow Cooker Chocolate Bread Pudding Recipe
Sometimes, a dessert is born out of "extra" ingredients.  If you're like us, we often have leftover bread and buns at the lake!  This warm, gooey dessert is a perfect end to another winter day at the lake.  Of course we topped it off with a scoop of vanilla ice cream.

Ingredients
6 cups Dried Bread Cubes or leftover day old bread/buns
4 cups whole milk (or 3 cups milk + 1 cup cream)
4 eggs
2 Tbsp. butter, me
1 tsp. vanilla extra
1/2 cup sugar
1-1/2 cups chocolate chips
1 cup Skor bits (optional)

Sauce:
1 tsp vanilla
1/2 cup water
1/4 cup brown sugar
1/2 cup butter or margarine

Spray slow cooker with cooking spray.  Place bread cubes in slow cooker. Mix together milk with eggs, butter, vanilla extract and sugar. Pour over bread cubes in slow cooker.  Fold in chocolate chips.

Cook on High for 2 hours.  At end of cooking time, mix together vanilla, water, brown sugar and butter in small pan on stove top and bring to a quick boil, removing immediately after sauce comes to a boil.

Pour over cooked slow cooker bread pudding and remove to individual serving dishes.  Can also be served with vanilla ice cream or whipping cream, sprinkled with icing sugar.
Lakestyle is a company founded on a desire to help people fulfill their lake life dreams. By utilizing easy to maintain dock systems and accessories, people are able to spend less time working and more time having fun!  Lakestyle is the exclusive Canadian retailer of Tommy Docks, beautiful and easy to install, quality docking system.Check us out at www.lakestyle.ca, follow us on Facebook, Instagram and Twitter @LakestyleCA!